Hinged Patio Doors Davenport
A Welcoming Entry for Your Home

Hinged Patio Doors Davenport
The Window World French-Style Sliding Patio Door makes it easy and affordable to add a beautiful entryway to your home. Featuring the distinctive styling of a Hinged Patio door, this innovative design combines traditional elegance with the functionality of a floor space-saving sliding door. Details such as a 5″ top rail and 7″ bottom rail are complemented by a gracefully curved handle, further accentuating the premium quality and appearance.
Design Innovations for Exceptional Performance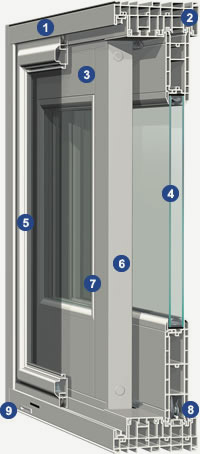 Premium vinyl mainframe and sash extrusions are colored throughout – won't chip, peel, crack or warp and never need to be painted.
Mainframe and sash feature a double-wall design and multi-chambered construction for outstanding strength and thermal protection.
5″ top rail, 7″ bottom rail and 3″ side rails feature mortised joints to achieve traditional "French door" character and charm.
1″ thick insulated glass unit with warm-edge spacer saves energy year-round by reducing the transfer of heat and cold.
Dual internal/external weatherstripping on the sash ensures optimal energy efficiency and performance.
Steel reinforcements at the interlocks and lock rails increase strength, rigidity and structural integrity.
Steel tandem roller system with nylon-encased steel wheels ensures quiet and easy operation of the door panel.
Mainframe joints incorporate closed-cell foam gaskets for superior sealing.
Color Palette

Decorative Handles
Choose a beautifully crafted handle to complement the appearance of your home.


If you have a beautiful patio or backyard, you certainly want immediate access to this area, and there is no more elegant way to create this passage than with Hinged and French doors. Learn more about whether Window World Hinged or French Door installation is the best fit for your home by scheduling a free in-home estimate.